CIND Partners NDLEA On Awareness Against Drug Abuse, Trafficking In Communities
The Community Intervention Network on Drugs, CIND, a conglomeration of one hundred and twenty Non Governmental Organizations that is committed to eradication of drugs abuse at grassroots level, has
expressed readiness to partner the National Drug Law Enforcement Agency, NDLEA to increase awareness against drug abuse and trafficking in communities.
The Anambra Representative of the Network in the South East Region, Princess Ekwi Ajide made the promise when she led members of the network on a courtesy call on the Anambra State Commander of the NDLEA, Mr. Muhammadu Idris at the Command's Headquarters in Awka.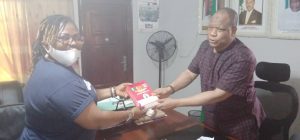 Correspondent, David Okpokwasili reports that Princess Ajide, who is the founder of Balm for the Bruised Foundation, one of the NGOs under the CIND network, stated that the NGO will leverage on its community based structure to reach more to reach out more to youths at the grassroots level.
She also called on NDLEA to always ensure that the agency maintains the protection of human rights of drug abuse and trafficking suspects during their usual law enforcement activities and raids.
Responding, the NDLEA State Commander, Mr. Idris acknowledged that the Agency cannot succeed in the fight alone and welcomed the NGO for agreeing to partner them to ensure that people are better informed on the dangers of drug abuse.
He reiterated that the Agency ensures that suspects are not maltreated and are prosecuted within the arms of the law without abuse while revealing that the Agency is now partnering Legal Aids Council to provide free legal representation for suspects, who cannot afford to pay a counsel during their  prosecution.
At the visit were the Acting Assistant Commander of NDLEA, Anambra State Command, Mr. Benjamin Adeh, the Secretary, Anambra State Drug Control Committee, Mr. Chris Adabor, the Legal Adviser, Balm for the Bruised Foundation, Barrister Lauretta Ikwuka, and the Coordinator, Divine Era Development and Social Rights Initiative, Mr. Leonard Nwadike.
The highpoint of the visit was the exchange of advocacy materials between the NDLEA and the Community Intervention Network on Drugs.
The 2022 August Meeting Sensitiztion/Awareness  Creation Campaign  of the Balm For The Bruised Foundation (BFBF) in some selected towns of towns of Anambra state has been concluded amidst success stories
In commemoration of the International Day Against Drug Abuse and Illicit Trafficking, BALM FOR THE BRUISED FOUNDATION, in conjunction with Standard Secondary School Ichi, had a 2-day interactive sessions with